CNN
—

Residents of the Monterey Peninsula may soon be living on an island as mammoth flooding threatens to cut off the rest of California.
The state is affected by a series of atmospheric rivers — long, narrow channels in the atmosphere that can transport moisture thousands of miles.
At least 18 people have died, neighborhoods have been turned into lakes, and countless homes have been destroyed as storms over the past two weeks have toppled trees and paralyzed communities.
California floods, in pictures
But there was good news Thursday: Almost nonstop rain has lifted much of California out of "extreme drought" conditions.
Much of the state is getting some respite from Thursday's brutal weather. But cities are still flooded — and storms are on the way.
Just south of the San Francisco Bay Area, cities on the Monterey Peninsula including Monterey, Carmel and Pacific Grove could soon be cut off from the rest of California by epic flooding.
"If anyone was here in 1995, you know that during a major flood event, the Monterey Peninsula became an island — people were stranded on one side or the other," Monterey County Sheriff Tina Nieto warned Wednesday evening.
"We expect we're going to go into a similar situation, but not as bad. Some roads will be closed and you can get stuck on one side or the other.
The sheriff's office upgraded evacuation warnings to evacuation orders Wednesday for low-lying areas near the Salinas River.
"The Monterey Peninsula could become an island again like it did in the '95 flood, so please start preparing now," the sheriff warned.
Nieto said it will be days before residents are allowed to return home as crews must ensure the area is safe.
As stated therein Storm Prediction CenterAs another round of storms hits California, here's what to expect:
Thursday: Heavy rain will develop along the Northern California coast, Oregon and Washington through Thursday night, with the risk of heavy rain in Northwest California.

Friday: An atmospheric river will hit the Northern California and Central California coast on Friday. A Winter Storm Watch will begin for the Sierra Nevada Range.
Heavy snowfall will lead to dangerous mountain travel conditions Friday and Saturday above 5,000 feet and in the northern and central California passes.

Saturday: A second system will move in on Saturday, and rain will spread south and begin affecting the entire state. Heavy rainfall threats may be issued for Central California.
Recent storms have crippled travel and shut down dozens of highways.
At least 40 state routes were closed as of Wednesday night, state transportation spokesman Will Arnold said.
"We're asking the public: If you don't need to be on the roads, please stay home and avoid non-essential travel," Arnold said.
More than 100 National Guardsmen are searching San Luis Obispo County 5-year-old Kyle Doan is missing Monday after he was pulled from his flooded vehicle.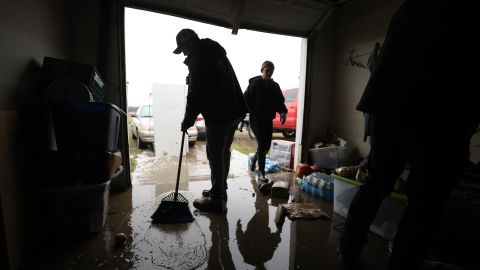 Less than 1% of California is now in "severe drought" — up from about a third of the state two weeks ago, according to the latest U.S. Drought Monitor report released Thursday.
"Heavy rainfall in California over the past few weeks — particularly in late December and early January — has significantly reduced the severity of the drought in California," the U.S. Drought Monitor said.
According to the National Weather Service, in 16 days, parts of California received between 50% and 70% of the amount of rain they normally receive in an entire year.
Isolated areas, especially in the mountains near Santa Barbara, recorded more than 90% of their annual precipitation.
But more than 95% of the state still faces some drought condition.
"Much of the state is in "moderate" or "severe" drought due to moisture deficit in some areas for the last 2-3 years," the drought summary said.
Recent rains have "given a generous boost" to the state's major reservoirs, but most are below long-term averages for this time of year.
"Friend of animals everywhere. Devoted analyst. Total alcohol scholar. Infuriatingly humble food trailblazer."